Getting a feel for furniture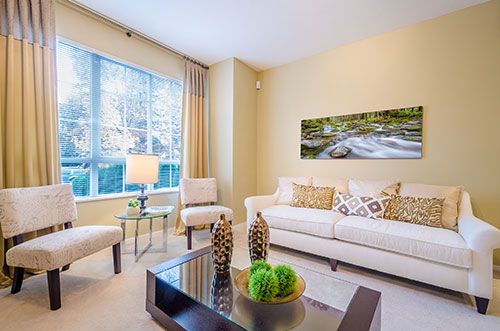 What to consider before you head to the furniture store.
The feeling you get when you're inside your home is influenced by a number of factors; the colors, the lighting... and of course the furniture. From the kind of furniture you choose to where you decide to place it, having an informed plan can make a room, and your home, more comfortable. Here's a few things to keep in mind:
Variety is the spice: To add visual interest to a room, incorporate different types of furniture with a variety of characteristics. From sectionals, to armchairs, to side tables... every object will inform the energy and overall feel of the room.
Size matters: The dimensions of a room – and the furniture within it – all influence "scale." When furnishings are out of scale, it creates a lack of harmony that you can sense the moment you enter the room. Paying attention to the size of pieces relative to one another and the room itself is a key consideration.
Balancing act: Furnishings that are arranged in a symmetrical or balanced way can add a sense of "calm," while asymmetry can lend a bit of drama. The feeling that you're looking to create in a specific room or space will influence the direction you choose to go.
Measure twice, buy once: from a logistical perspective, be sure you can get the piece of furniture to and from the room where it will live before you commit to it. Take into account the dimensions of hallways, doorways, stairs... how will you get the piece where it belongs? Because if it comes down to furniture vs. walls, there are no winners!