Color Trends for 2015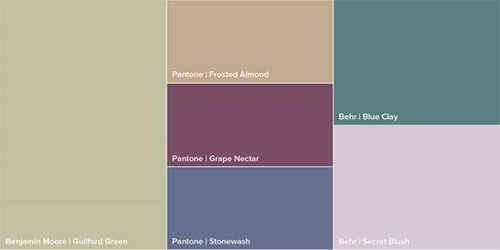 Brush up on the hottest hues for your home's interior.
2015's hottest colors? It's actually more like 2015's softest colors. That's what many of the decorating experts are advising: Neutrals are back in. From Benjamin Moore's 2015 color of the year to Pantone's 2015 color report, earthier and more natural colors are making a comeback.
Here are three of the top colors for 2015, from a few select experts on the subject:
Benjamin Moore has its eye on "Guilford Green," a soft green that brightens a room without hurting the eyes.
Likewise, Pantone has found great inspiration in the natural world. From "Frosted Almond" to "Grape Nectar" to "Stonewash," its 2015 color palette has a weathered yet welcoming quality that will lend a truly homey feel to, well, your home.
Of course, things don't have to always be soft. While Behr features a number of neutrals on its 2015 color list (like "Secret Blush" and "Blue Clay") it's also still a huge fan of the deep teal and purple peacock hues that made 2014 so bold.
REMEMBER: Just because these color powerhouses are reigning in their punch this year, doesn't mean you have to. A soft neutral allows your home to speak for itself, but sometimes what your home is saying is "I want a bold accent wall!" When it comes to your home, yours is the only taste that counts.