A well constructed sunroom includes key structural features that provide strength, durability, and energy efficiency. Learning the names and benefits of each will help you make more educated choices when planning your room and selecting the right contractor to do the job.
Identifying Sunroom Features
Your Champion representative will walk you through all the features of our sunrooms, but you may have questions about parts and pieces of a sunroom when you're looking through material on your own. This handy guide will help you identify different sunroom features.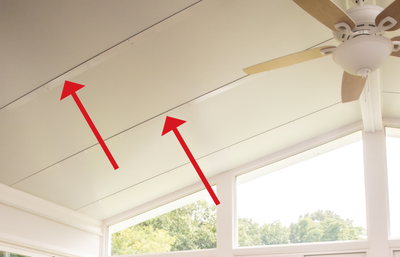 I-BEAMS
Load-bearing structures in the roof of a sunroom. Champion all-season sunrooms have insulated I-Beams to prevent the roof from conducting heat or cold, and lightweight cores that create less stress on your walls and foundation.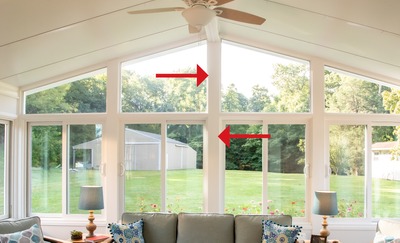 CENTER POST MULLION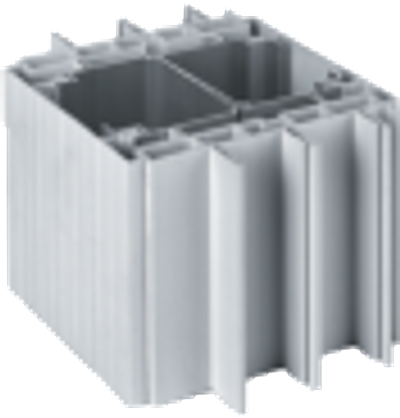 Adds additional strength to the sunroom. Designed to conceal wiring and allow outlets to be attractively recessed.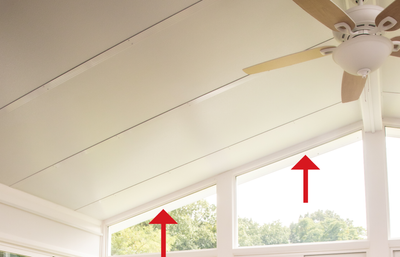 LOAD-BEARING HEADER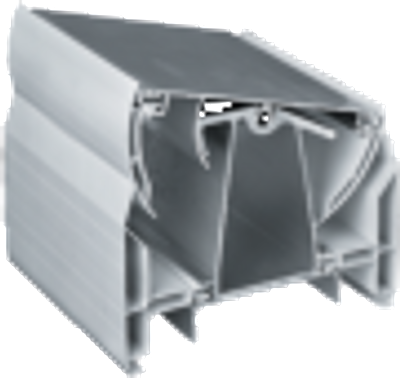 Tilts to match the pitch of your roof. Its enhanced strength supports the larger glass viewing areas found in sunrooms.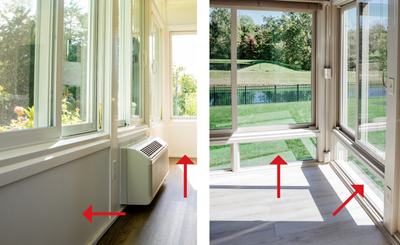 KNEE PANELS
The wall panels beneath the windows. Available in solid insulated panels (left), or energy efficient glass (right). Champion's insulated knee panels are designed to resist dents, scratches, and discoloring.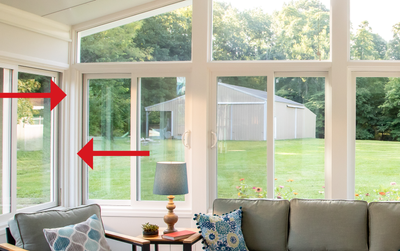 CORNER POST
The vertical posts on each corner of the sunroom. Champion uses 6-inch posts engineered for maximum strength. Invisible screws allow for an attractive finish.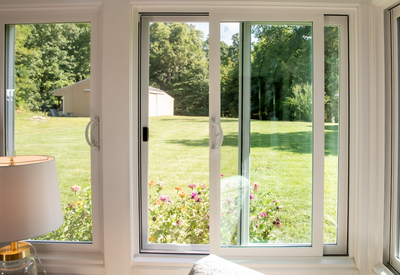 SLIDER WINDOWS
Durable, easy to operate windows, that function like a sliding glass patio door. Champion windows have a superior U-Factor to keep out heat or cold, and block harmful UV rays.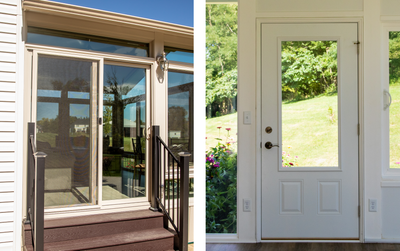 PATIO DOORS
A door leading to the outside. Can be a sliding patio door (left) or an entry door with glass (right). Champion doors are energy efficient, with contemporary handles and locks. Screen doors available for the exterior.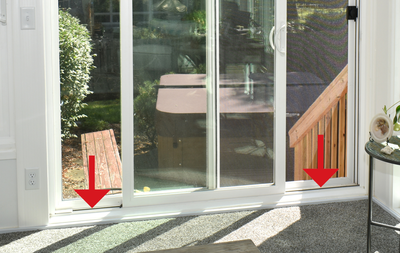 DOOR SILL TRACK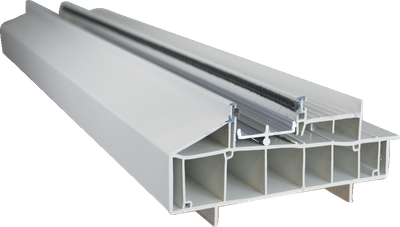 Track a sliding patio door sits on, with rollers to ensure smooth sliding operation. Champion uses recessed tracks to prevent air infiltration, and stainless steel rollers that won't rust.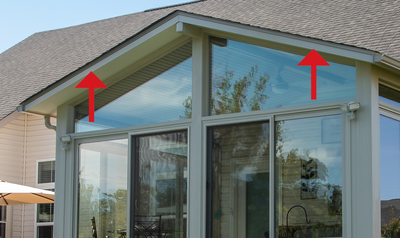 FASCIA TRIM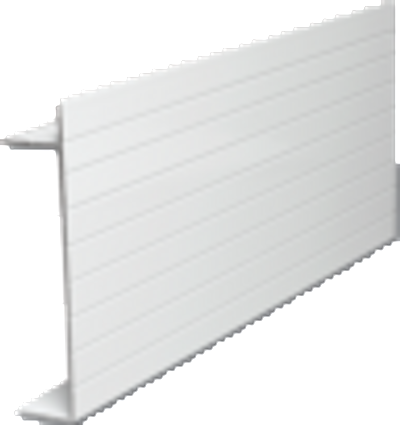 Attractively finishes the outer edge of the roof.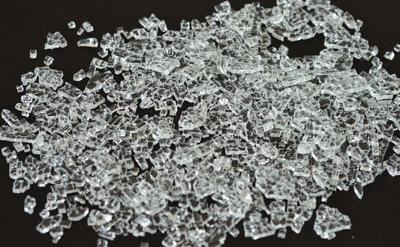 TEMPERED GLASS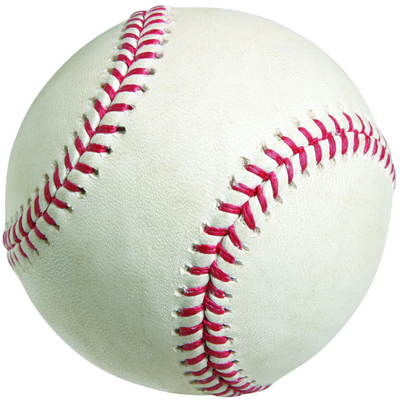 A type of safety glass that, when broken, crumbles into small pellets instead of sharp shards, greatly reducing the chance of injury. Used in all Champion sunrooms.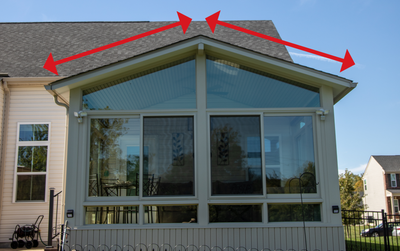 GABLE ROOF
Two roofing panels supported by a beam in the center, and each panel slopes away from the beam.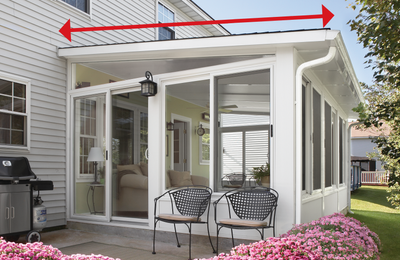 STUDIO ROOF
A single slope roofing panel.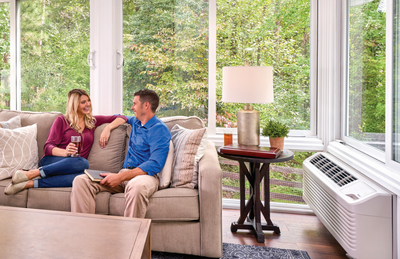 ALL-SEASON SUNROOM
Full heating and air conditioning capability and is outfitted with the maximum insulation to keep the room comfortable in both the warmest and coolest of weather. Engineered with 6-inch wide vinyl frame.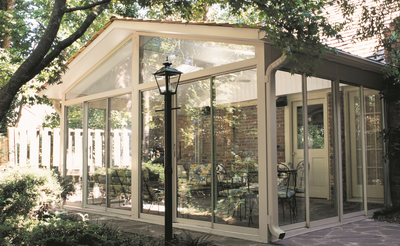 3-SEASON SUNROOM
Similar to an all-season sunroom in design and build. Intended for use from spring through fall, in regions with cold winters. Engineered with 4-inch wide aluminum frame.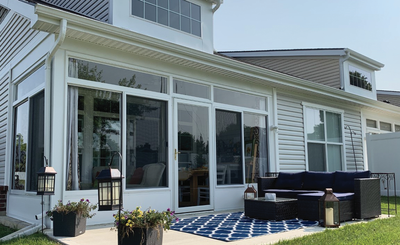 PATIO ENCLOSURE
Encloses an existing porch with either screens or glass. Sometimes referred to as an under-build.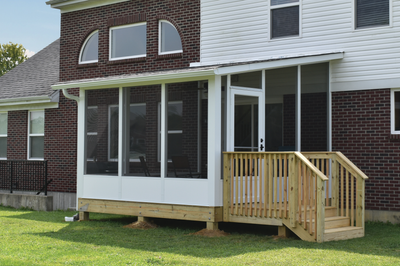 SCREEN ROOM
Built in the style of a sunroom, but is enclosed only by screens (no glass). Lets in light and the breeze while keeping pests out.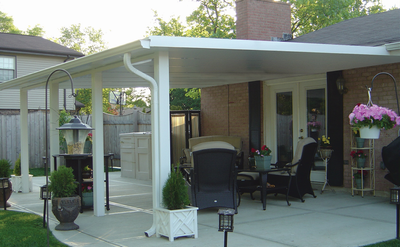 PATIO COVER
A roof structure with no walls that creates shade over an existing patio.