When most people think of a window, they think of a double-hung or single-hung panel that slides up and down on a track. Casement windows are different because they have hinges that allow them to swing open like a book. Casement windows have advantages that can make them ideal for some situations.
Knowing the details of casement windows can help you decide whether or not this type of window is right for your home.
Here's what every homeowner should know and what we will cover:
What Is a Casement Window?
A casement window can seem somewhat unusual in its functionality and appearance. While double-hung and single-hung windows are the standard for many homes in the United States, casement windows take up a smaller percentage of the market.
Still, when it comes to enabling air flow, no window works better than a casement.
Casement windows pivot outward, or sometimes upward, to open the entire window. Casements are typically held to the window by double or triple hinges, depending on the style, size and manufacturer (1).
What Does a Casement Window Look Like?
A casement window is an old-fashioned looking window that is typically taller than it is wide. Hinged windows can be found on old cottages and buildings in Europe, so some people like these windows because of their traditional but still unusual appearance (2).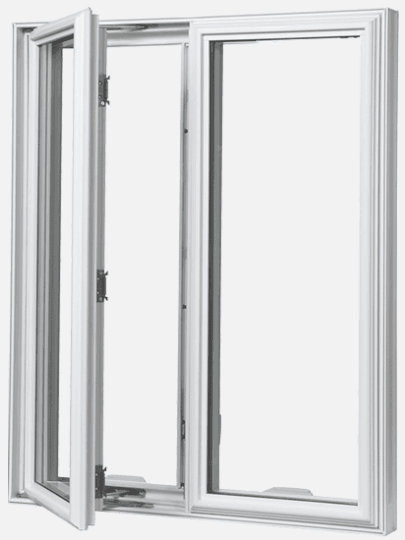 Some casement windows have dividers between panes (known as 'muntins'), others are made up of large, unbroken panes of glass. Typically, these windows are controlled by a crank that allows the person inside the home to open and shut the windows as needed (3).
Versions of this window that involve no muntins provide excellent, unbroken views of the yard and landscape beyond. For homeowners who have large, attractive plots of land, casements can draw attention to the natural surrounding beauty.
Where to Install Casement Windows?
Casements can be installed anywhere in the house, but are best placed in parts of the house where ventilation is key for comfort. Bedrooms and living rooms are both excellent locations for casement windows.
How Do Casement Windows Work?
Casements open and close on hinges that are operated by a turn crank. On the inside, casements have mechanical parts (gears, etc.) that enable the windows to open and close via the crank. Often, these cranks enable the windows to open to a very wide angle, to get the best possible air flow through the home (4).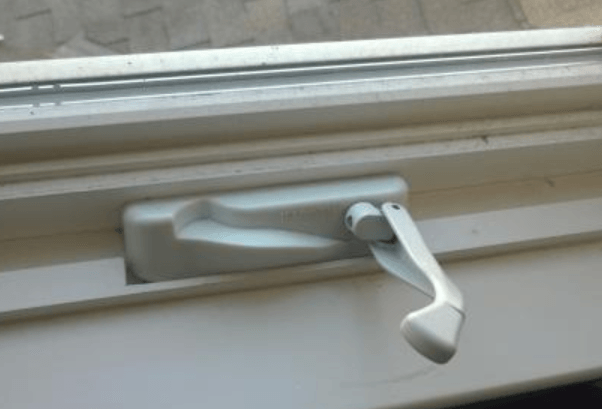 Sometimes casements come equipped with bug screens, other times they open directly into the yard. Homeowners have the option of choosing bug screens to go with their casement windows, if the need suits them.
Comparing the Pros and Cons of Casement Windows
There are many benefits of casement windows, especially for the right homeowner. Knowing the pros and cons can help you decide whether these windows are right for your home (5, 6).
Pros:
Good air flow. Since casements open completely, this provides good air flow inside, and can reduce a homeowner's reliance on the HVAC system.
Visually romantic. There's a certain romance in the concept of a casement window because they open outward (think Romeo and Juliet).
Security. Typical casement windows lock via a hook that latches on the inside that are very difficult to break from the outside.
Windows direct breezes into the house. Casement windows catch air, like the sails of a ship, and can make indoor rooms breezy, comfortable and cool.
Better views. As already mentioned, many casement windows have no muntins to obstruct the view outside. So, on beautiful properties, casement windows are ideal.
Cons:
Nothing is perfect. Casement windows do have some disadvantages that homeowners need to know about before they order installation (7).
Screens inside the house. Some casement windows don't come with screens, which can be a problem for homeowners with children. For those that do come with screens, the screens are positioned on the inside of the window which can make the screens more vulnerable to breakage and tearing.
Specialty window A/C required. You can have a window air conditioner even if you have casement windows, but you have to buy one that is a special size and shape.
Vulnerable to breakage in strong wind storms. Just like an umbrella that turns inside out in a breeze, casements are vulnerable to breakage if a strong wind catches the pane.
What Are Signs Casements Need To Be Replaced?
How can you tell when a casement needs to be replaced? Like other kinds of windows, casements will start to show signs of wear and tear when they're nearing the end of their service life.
When casements are near the end of their service life, the frames may become warped, rotten or leaky, especially if they haven't been well maintained. Look for issues such as:
Windows are poor fitting and do not shut all the way.
Windows are drafty and no weather stripping will completely resolve the issue.
Mechanisms in the windows are beginning to wear out.
While one leaky, drafty or poorly functioning window is not a sign your windows are at the end of their life, multiple windows can be a problem. If all of your windows are showing this sign of wear and tear, then this is an indication that they need to be replaced altogether (8).
How to Clean or Care For Casement Windows?
Care for your windows by cleaning them with vinegar and water, then wipe away the vinegar and water with a squeegee. Check the windows periodically for signs that the caulking is cracking, molding or becoming brittle. Replace the caulking as needed (9).
Finally, inspect your windows on a regular basis for signs of mold, mildew, peeling paint and condensation. These problems can lead to the deterioration of the window frame, requiring maintenance and repair.
Are There Alternatives to a Casement Window?
Casement windows are not like other types of windows. Sliding windows are somewhat similar to casement windows in appearance, but are very different in functionality. Sliding windows work by sliding the pane across the track to create an opening in the window on the left or right-hand side. Like double-hung and single-hung windows, sliding windows are incapable of opening all the way (10, 11).
Why Choose Casement Windows?
Casement windows are the only windows that have the ability to open completely. Casements are also the only windows that open outward. This gives them a distinctive style that cannot be duplicated.