Soft white and light beige have been the most commonly available colors in vinyl windows for many years. While white is a very tasteful color that can match nearly any home interior, other colors are now available for purchase.
Matching your vinyl windows to your taste and your home's interior has never been easier. Consumers seeking colors aside from white now have many options.
Here is what every homeowner should know and what we will cover:
What Choices Are Available?
Vinyl windows are now available in a range of colors including reds, browns, greens, blues and grays. Typically, these colors are deep and bold, similar to the type of colors people paint their home interior and exterior (1).
Color options for new windows include:
White. Simple, soft and traditional, this is the most common color choice for vinyl windows.
Black. Black is a great way to add contrast to a home, and works well with white or light-colored walls and siding.
Adobe. This earthy gray-brown color works best when combined with other neutral colors like gray, brown, sage and gray-blue.
Bronze. Bronze stands in sharp contrast with light colors, but can be used in a variety of settings. Elegant and sophisticated, bronze is very modern in its deep, rich tones.
Pebble. Pebble is a gentle brown color with hints of gray. This flexible shade can be combined with nearly any other color with success.
Colonial blue. Colonial blue is the go-to color for homeowners who want a little more color and flare in their windows. Colonial blue is subtle and tasteful, for long-lasting beauty.
Tan. For homeowners who simply want a light color that isn't white, tan is the go-to shade. This flexible hue works just as well as white when combined with other colors.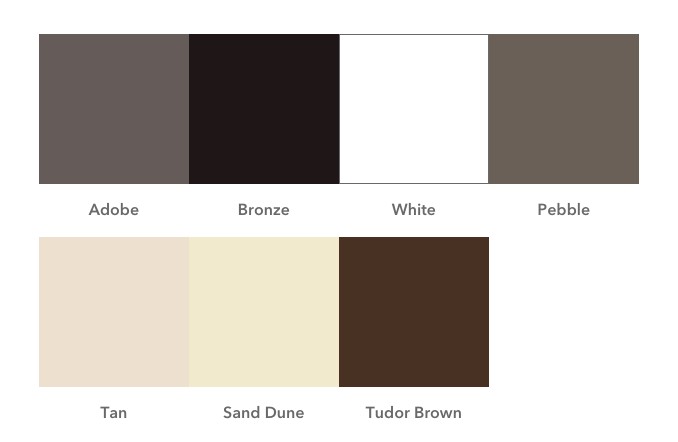 In addition to these solid color choices, many consumers are attracted to the natural wood grain options also available. Vinyl wood grain patterns mimic the appearance of natural wood windows but have the durability and low maintenance of vinyl.
Consumers who love the beauty of wood but who have no interest in or ability to perform regular maintenance on their windows can now enjoy the best of both worlds. Wood grain finishes are available in:
Cherry wood. This finish has a fine grain pattern and the reddish tones of cherry wood.
Dark oak. Dark oak is a striking warm brown color with dark wood grain patterns underneath.
English oak. This wood grain is blond in color, with warm brown grain lines.
Do Colored Windows Provide Long Lasting Durability?
In the past, colored windows were not a possibility because vinyl can warp at temperatures of 140 degrees Fahrenheit and above.
Darker colors like brown, red and blue absorb heat instead of reflecting it. In a normal summer, windows in these colors can become very hot and are easily warped.
Advances in technology now prevent this from happening.
Vinyl windows can now be made in darker colors without fear of warping or fading. A standard vinyl window will last approximately 20 years, and requires little or no maintenance for the majority of that time (2).
Creating Distinctive Looks Through Beautiful Combinations
Colored vinyl windows can provide long-lasting beauty for homes in a variety of settings.
Adobe windows in a gray/beige home. Gray and beige are common colors found in residential structures because they have almost universal appeal among home buyers. Adobe blends seamlessly with these colors.
Colonial Blue set among earthy neutrals. Set against a tan, white, cream or gray wall, Colonial Blue stands out and provides a beautiful accent around the windows of the home.
Pebble windows in deep blue setting. Pebble is a gray-brown color that combines nicely with blue and blue-gray walls and sidings. Pebble also pairs well with gray and brown walls and sidings.
Bronze makes a striking contrast against cream and white walls. Bronze is a deep, rich brown that sets windows apart from their surroundings. When placed against white and cream colored walls, bronze windows highlight the beauty of the window's form.
Wood grain works in nearly all settings. For homeowners who like the beauty of wood grain but who don't want the maintenance of wood, wood grain vinyl is the product of preference.
Champion's Trademarked Manufacturing Process
Champion windows are made using a trademarked manufacturing process called ColorBond® and TimberBond®. ColorBond® and TimberBond® windows are both made with an environmentally friendly process that involves a low concentration of volatile organic compounds (220 grams per liter). These windows are non-toxic and odor-free, to ensure total satisfaction and comfort in the home (3, 4).
ColorBond® and TimberBond® windows are easy to clean and are resistant to a variety of chemicals including lacquer thinner, acetone and window cleaner. ColorBond® and TimberBond® are also resistant to pollutants like acid rain. Champion windows are made from EPA compliant pigments.
To prevent warping, ColorBond® and TimberBond® windows are both heat reflective. This helps ensure the stability of the windows and as an added benefit, ensures a cooler temperature in the home. Because of this new technology, your windows should continue to look beautiful for years to come.
Visit a Showroom for More Information
For many homeowners, it's hard to imagine what colored vinyl windows might look like in a residential setting. Visiting a local showroom can help. Working with a reputable window installer in your area can help ensure that your window selection will look great in your home and will last for a long time.
Nothing quite compares to the beauty and elegance of Champion ColorBond and TimberBond windows. To find out more about how these windows would work in your home, contact a Champion representative in your area (5).