Tilt and turn windows are popular in Europe but are slowly gaining in popularity in the United States. Because of this varied demand, they are not offered by all window companies, including Champion. Nevertheless, for homeowners looking for an elegant, flexible window option that can serve multiple purposes while allowing maximum light entry, the tilt and turn may be a good option to consider.
Here's what every homeowner should know and what we will cover:
What Is A Tilt and Turn Window?
A tilt and turn looks like a casement window, with large unbroken glaze in the center of the assembly. The window can assume three different positions, based on the needs of the homeowner or home occupant (1, 2).
In the closed and locked position, it makes an excellent picture window to give the homeowner an unobstructed view of the world outside. In the second position, it can turn open from hinges on the side, like a door.
In the third position, the window can tilt in from hinges on the bottom, to provide air flow into the room.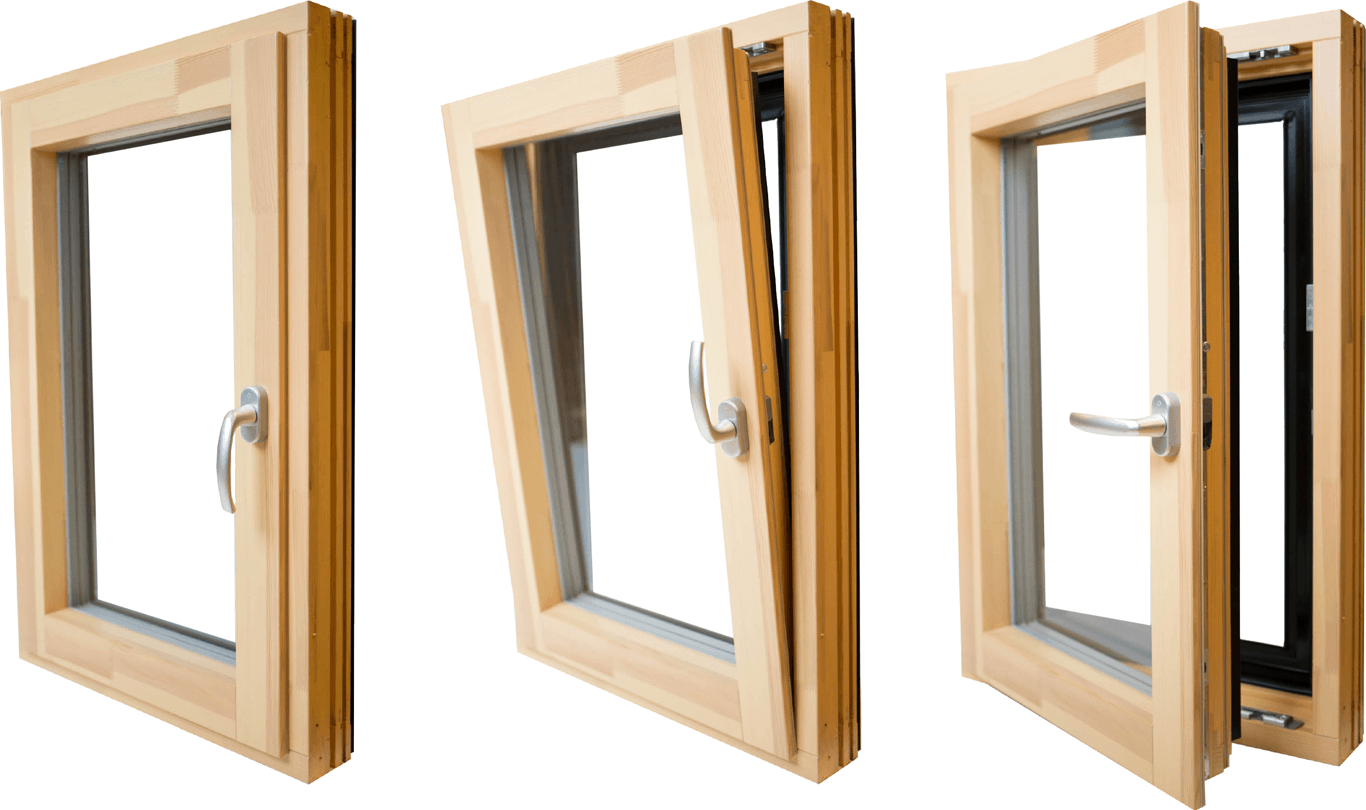 How Does Tilt and Turn Window Function?
Tilt and Turn Windows are popular because of the multi-functioning way it provides security and comfort in the home (3).
In the closed and locked position:
The window is shut, and the handle is pointed downward at the floor
This position enables the occupants inside the home to get the maximum amount of light
The second position:
To open, the handle is turned 90 degrees to point to the right
This enables the window to swing inward, like a door
In this open position, occupants inside the home have easy access to the outside and allow maximum air flow into the home
The third position:
The window is closed, and the handle is rotated upward another 90 degrees to point at the ceiling
In this position, the tilt and turn window pivots from the bottom and tilts inward slightly
After opening only a few inches, the window locks into place and will open no farther
This tilting option allows breezes to enter the home while preventing rain and the elements from entering
Why Choose Tilt and Turn Style?
There are several reasons that this style of window appeals to homeowners (4, 5).
Flexibility. Tilt and turns open from different directions, meeting different needs with each position.
Easy Open. They're known to open easily regardless of position. Tilt and turns come with an easy to use handle that many homeowners appreciate.
Attractive. In addition to being easy to use and flexible, tilt and turn windows have a clean, attractive design that fits in a variety of different home and building styles.
Safe. Because they can be opened from the top, tilt and turns are safe for homeowners with small children. A hinge at the bottom ensures that the window can be opened for air flow while still preventing a child from falling out.
Secure. When opened from the top for air flow, tilt turns lock into place to block intruders who might try to enter the home. The windows can be left open without concern that the home can be compromised from the outside.
Weatherproof. Tilt and turns seal tightly to prevent weather from entering the home. When opened from the top, tilt and turns block the entry of rain into the home.
Easy to clean. Cleaning tilt and turns is simple! Just open the window from the side hinges and clean both sides of the glass.
Homeowners who choose tilt and turn windows appreciate the flexible simplicity of these windows as well as the clean design. Tilt and turn windows just work well for homeowners who need a high-performance, safe, secure, easy to use window option.
Is Tilt and Turn A Safer Window Option?
Tilt and turn windows can be safer than standard styles, depending on how they're used. Homeowners are often tempted to open windows when they sleep at night or leave for the day, but standard windows are vulnerable to break-ins and could allow rain to enter the home.
This is not so with tilt and turn windows. Tilt turns block the rain by opening from the bottom. These windows also block intruders from entering, by locking into position after opening a few inches (6).
How Do Tilt and Turn Compare to Other Window Styles?
Tilt and turn windows are far different from other styles in the United States. The dual functionality of tilt and turns are unlike other windows. Whereas single-hung and double-hung windows only open by sliding upward, and sliding windows only open by sliding to the side, tilt and turns offer two different ways of opening depending on the circumstances and the needs of the homeowner (7).
The only standard window comparable to the tilt and turn variety are casements. Like casements, tilt and turns open through a tilt-in motion. Unlike casements, tilt and turn windows can be opened via hinges on the side or on the bottom, depending on the desires of the person using the window (8).
These are other common window styles (9):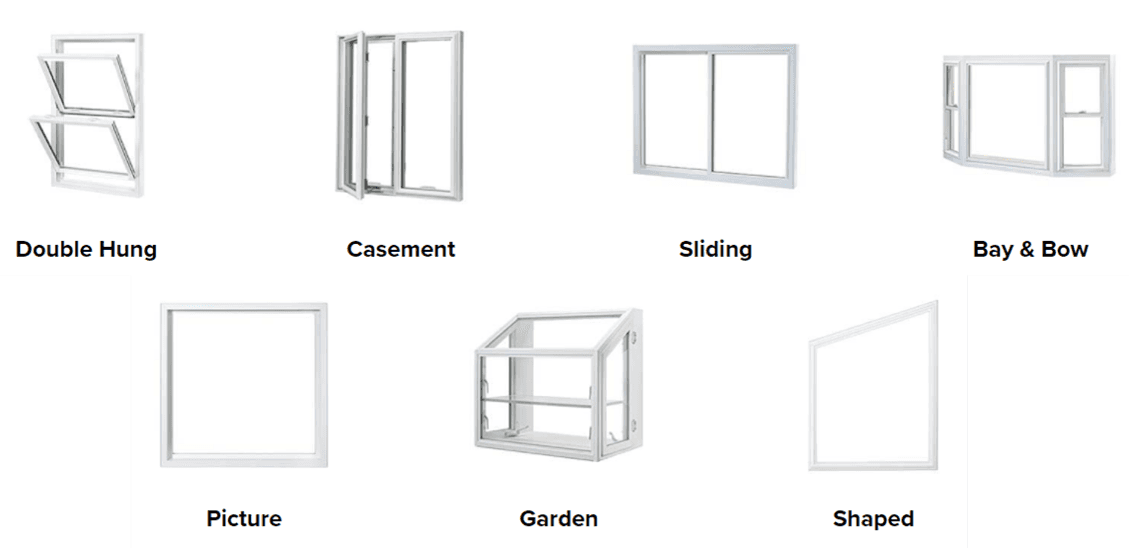 What Are Signs Windows Need to Be Replaced?
If properly maintained, tilt and turn windows should last a very long time. However, older windows that have not been properly maintained may become warped over time, leading to poor functionality. Some of the common signs that windows need to be replaced include:
Rot around the sashes. A single rotten sash is typically something that can be fixed. However, if many windows have rotten sashes, this is usually a sign that it's time to replace the windows. A contractor can help you decide whether it's better to repair or replace.
Rot or decay around the frame. Once the frame in a window begins to rot, it usually needs to be replaced. Keeping the frame properly painted and sealed can help prevent this problem, as can fixing roof leaks and gutter problems as soon as they occur.
Some homeowners choose to replace their windows if they stick frequently or when they become energy inefficient. Weather stripping and general repair can often help with this problem, so talk to a contractor to find out whether repair work is better than replacement (10).
How to Clean or Care for Windows?
Tilt and Turn windows, like most windows, need little annual maintenance. A simple mixture of vinegar and water can be used to clean your windows if they become dirty. For a streak-free shine, use a squeegee to wipe away the cleaning solution.
Power washing windows is unnecessary and can be damaging. If your windows are made of wood, they will need to be repainted or re-sealed on a regular basis to maintain water resistance. Windows made from wood alternatives will not need to be painted or sealed to maintain their beauty or functionality (11).